Mecadaq Group, a high-precision CNC machining company, has served the aerospace, automotive and home automation industries with complex parts since 1971.
With over 50 years of technical expertise and a focus on continuous improvement, Mecadaq Group partners with the world's top companies in the aerospace, automobile and home automation industries.
We are proud of our strong collaboration with leading industrial partners like Airbus, Boeing and Dassault Aviation (Aerospace), Peugeot (Automobile) and Somfy (Home automation).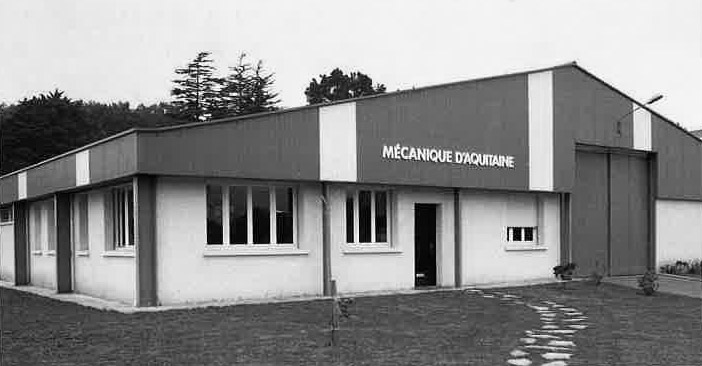 Originally located in Biarritz, France, the family-owned company employed fifteen people when it first started. From the beginning, Mecadaq Group has specialized in aerospace, while also supporting a thriving business in the motorsport industry (Formula 1 with Peugeot Sport and Renault Sport).
2002 : aerospace activity focusing
Julien Dubecq, CEO of Mecadaq Group since 2002, refocused the company on the aerospace industry after his father retired. With this focus, the Group soon developed new partnerships with several commercial aerospace programs launched in 2000 (A380, Falcon 7X, ERJ 170/190, B 787, A350).
In 2008, Mecadaq Group created a subsidiary in the USA with a goal to develop strategic partnerships with Boeing as well as with Airbus. Between 2010 and 2014, the Group experienced dynamic growth (+400%) as a result of this strategy.
Timeline of Mecadaq Group's Growth and Acquisitions
Fresson, Pessac (France) in 1988
Meca Aerospace, Santa Ana, CA (USA) in 2008
RBDH, Marignier (France) in 2016
Armoa, Chanteloup-les-Vignes (France) in 2017
Hirschler Manufacturing, Kirkland, WA (USA) in 2018 (Followed by the relocation of our Santa Ana facility to Kirkland)
Mecadaq Group's partnership with Activa Capital, a private investment fund, since 2015 has enabled the Group to leverage the trend towards consolidation in precision manufacturing, a highly fragmented sector. Between 2016 and 2018, the Group made 3 acquisitions, building on its manufacturing excellence with the specialized capabilities of individual sites, like turning and spline & gear shaping in Marignier. The Group's growth has also allowed the group to consolidate business with strategic partners like Airbus and Stelia, via the acquisition of the site in Chanteloup-les-Vignes, and with Boeing via the addition of the U.S. site in Kirkland, WA.
Today Mecadaq has three production facilities in France : Tarnos (the Group's headquarters), Marignier and Chanteloup-Les-Vignes and one storage unit in Pessac. The Group's North American facility is in Kirkland, Washington (USA) near Boeing's assembly line.
Today, Mecadaq's success is the result of a talented and dynamic team, modern organization featuring state of the art industrial tools (annual investments = 8% of revenue), diversification through a broad client portfolio and participation in various sectors, and an engaged group of family and financial shareholders. As a testament to the Group's success, both Airbus and The Boeing Company recognize Mecadaq Group as a "preferred supplier."
30
Number
of major customers
15
Millions
Parts delivered year